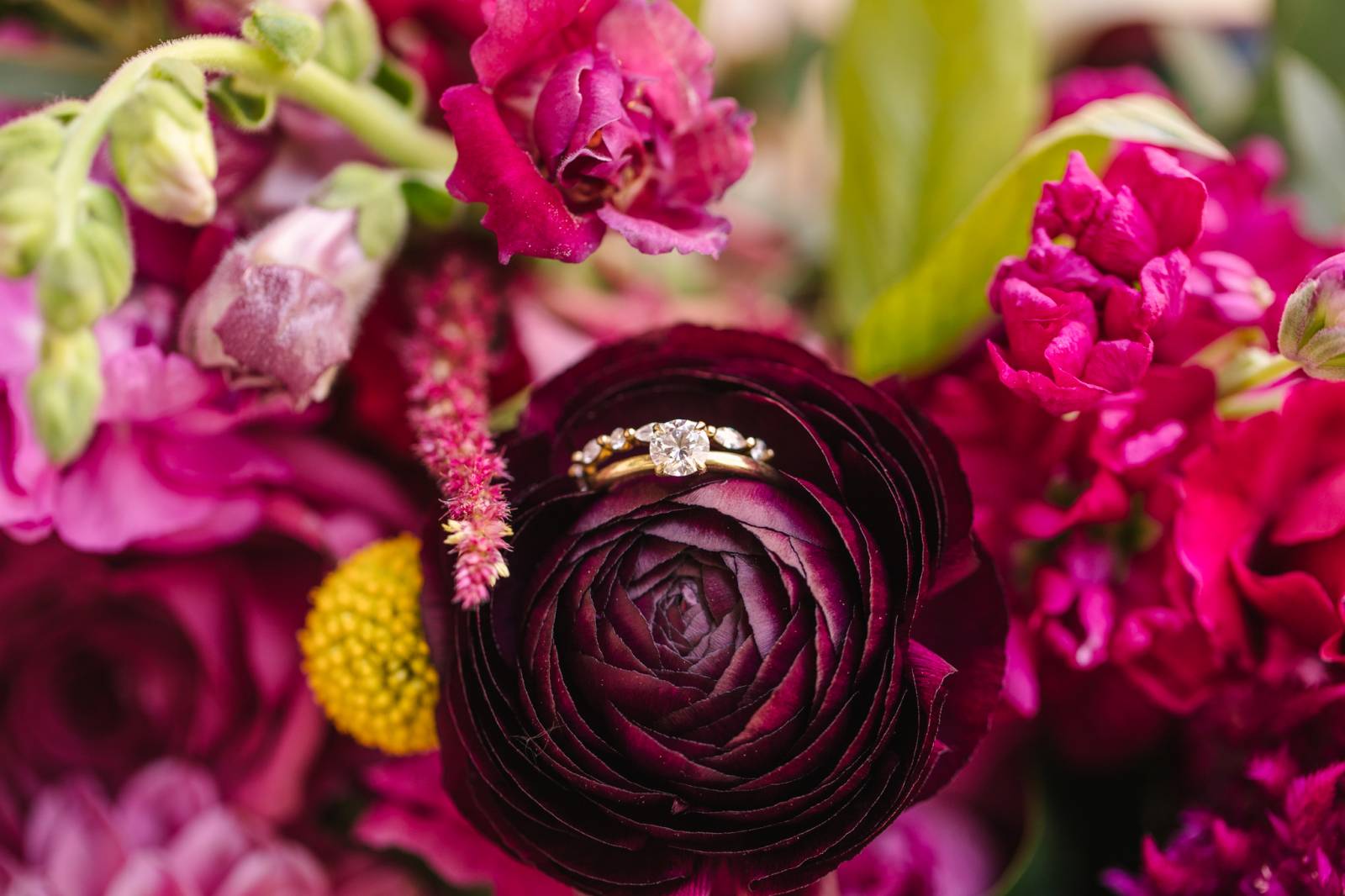 Colorado Real Wedding
This stunning wedding ceremony took place at the nearly 12,000-foot summit of the Keystone Resort in the Rocky Mountains of Colorado. Guests accessed the location via a gondola ride, and the altar was the sweeping mountain backdrop. The reception followed near the lake at the Ski Tip Lodge. It was a wedding dedicated to celebrating the couple's love and their shared love of the mountains.

The overall style of this wedding can be described no better than by the bride, Amie, herself:

"We had a very textured, organic, and colorful vision for our wedding! I wanted to find bridesmaids dresses that would look classy and timeless, so the bridesmaids wore neutral colored dresses. Then, they got a big splash of color with our bright jewel-toned bouquets. We love blue suits, which the groomsmen wore with ties that matched the bridesmaids. We both wanted Ryan to stand out from the rest of the groomsmen, so he got a custom burgundy suit and paired it with a blue and white floral tie, to tie into the groomsmen's blue color scheme. We were so happy with how great everyone looked together as a group!

For our reception tables, we wanted to get more creative than the typical numbers. Instead, we labeled them all with the name of a Colorado mountain above 14,000 feet in elevation--these peaks are affectionately referred to by Coloradans as "fourteeners." My brother-in-law designed and printed all of them. These ended up being some of our favorite decor items, and we are planning to frame and display them permanently in a wall collage!"

Amie and Ryan moved to Colorado from the Midwest almost 6 years ago and wanted to give all their friends and family from back home a real mountain adventure while celebrating their marriage. Mission accomplished!
- Colorado Wedding Photographer, DBK Photography