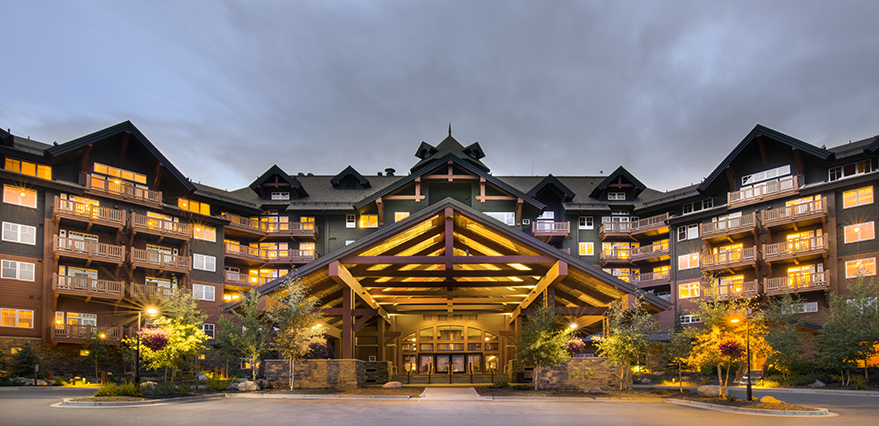 If Vegas just "ain't your thang," venture out to Breckenridge, Colorado for the perfect bachelorette weekend! Below we're sharing our guide to throwing the perfect fling before the ring!
Don't worry ladies; we also have a downloadable packing list for you so you don't forget anything...including your toothbrush!
ACCOMMODATIONS
One Ski Hill Place, A Rock Resort
Check-in on Friday morning at One Ski Hill place (Getting Here). This premiere Breckenridge hotel will provide all the amenities you and your girls need for an epic weekend! For the slumber party effect, book a 3 to 5 bedroom condominium so you can all enjoy each other's company from the moment you wake up to lights out at night.
Request a room overlooking the mountain and ski lift for prime views!
DAY ONE ACTIVITY
Mountaintop Yoga
Claim your beds and drop your bags off and head down to the oxygen bar to help you and your babes acclimate to the altitude. Then take the Colorado Chair Lift up to Vista Haus where you can book a private mountaintop yoga class. Work directly with the hotel spa to arrange your class.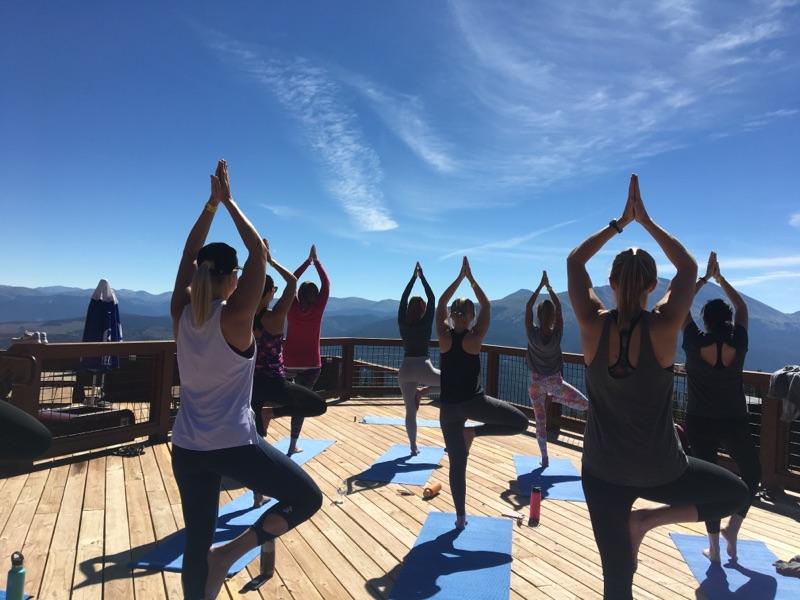 Plan the Perfect 'Gram
Have the bride wear all white athleisure wear to stand out! The bridesmaids can wear matching tanks or a fun color. We like these!
Post yoga, refuel at Vista Haus with a drink and a quick meal for lunch.
Head back down to refresh in your condominium! Before getting dolled up in your mountain chic attire, play a round of "Rose Pong" out on the balcony while taking in the fresh mountain air.
For "Mountain Chic Attire" ideas, check out our Pinterest Board!
DINNER NIGHT ONE
Sevens Restaurant
Take the shuttle to Sevens Restaurant which is located at the Grand Lodge at Peak 7. You may opt to sit inside, but the patio offers an incredible sunset view. From nachos to tacos to salads and pizza, the options are endless and everyone will be sure to leave happy! And, for the drinks? Sevens offers local drafts on tap, signature cocktails and spirits. But, don't get too rowdy, because the party has just begun!
DAY TWO BRUNCH
Brunch in the Living Room at One Ski Hill Place
Take your time waking up, no one is in a hurry! Once everyone is up and at'em, head down to the Living Room for a boozy brunch! Enjoy Bellinis, bloodies and your choice of savory waffles, yogurt parfaits and more.
Plan the Perfect 'Gram
Matching PJ's are adorable and they really complete the look for celebratory cheers with your mimosas!
DAY TWO ACTIVITY
Hiking and/or Boozy Boat Ride
There are so many trails to choose from in Breckenridge. Gauge the fitness level of everyone in your group and work with the concierge to pick the best trail for your group! Consider how vigorous you want the hike to be and how long you want to be gone for! Make sure to pack snacks and water bottles.
After hiking, perhaps cozy up in your room for a nap or take a dip in the hot tub to relax. Or, if you're all feeling up for another adventure, hop in an Uber or have a designated driver take you to Lake Dillion, just 15-20 minutes away from One Ski Hill Place. At Lake Dillon, you can rent a pontoon boat from the Dillon Marina!
Enjoy a drink at the Tiki Bar before taking out the pontoon boat! For 2 hours, you and your girlfriends can enjoy a boozy boat ride (happy hour)! Make sure to pack a cooler with snacks and drinks and bring a portable speaker for music! If you're worried about driving the boat yourself or if everyone plans to enjoy a beverage, hire a captain to take you around the marina for the 2-hour duration.
DINNER NIGHT TWO
Mine Shaft Bowling Alley at One Ski Hill Place
After a packed day, enjoy a fun "night in" down in the bowling alley. Reserve the entire space ahead of time for free. Enjoy burgers, or snack on guac and chips while knocking down some pins. Food and drinks are delivered right to the alley so you don't have to stop your game to re-fuel.
After, head up to the room where you can enjoy a few more beverages while playing bachelorette games in the comfort of your condominium. A late night is a-okay, especially with a relaxing day planned for Sunday!
DAY THREE BREAKFAST
Room Service
After a full day of activities and drinks, start the day with breakfast in bed! Order room service so you can continue resting and recuperating from the day before! Then head down to the mini spa for a full day of pampering.
DAY THREE ACTIVITY
Rejuvenation Mini-Spa
Pamper yourselves with facials, massages and foot scrubs! Be sure to book ahead of time just in case. Check out the options here.
DAY THREE LATE LUNCH
The T-Bar
After enjoying the Rejuvenating Mini-Spa, head to The T-Bar for a late lunch (the kitchen closes at 4:00PM). The T-Bar is Breckenridge's newest and hottest bar featuring a large menu of local brews and shareable appetizers. Share some appetizers or scrumptious entrees before heading to the movie theater for a relaxing night. Reserve the theater ahead of time to ensure it is available. You can munch on some snacks and cozy up in some comfy couches with your gals.
Hit the hay early so you can wake up and head back to Denver (or the airport) on Monday morning.