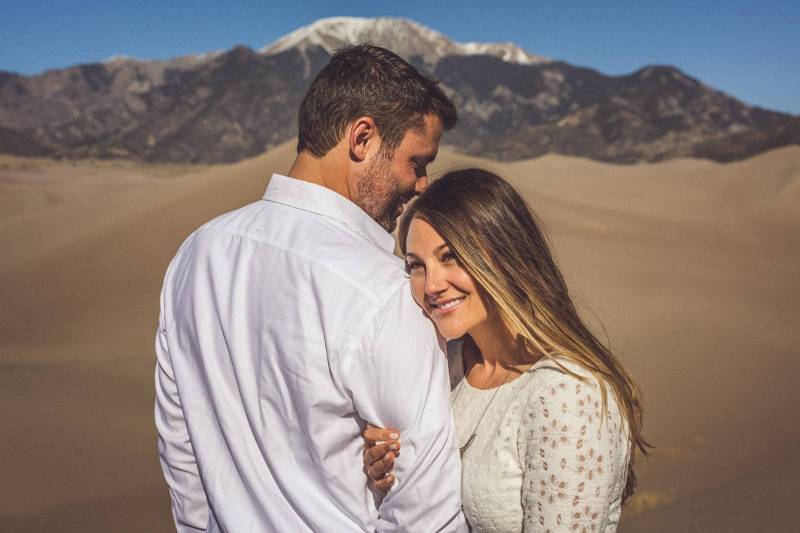 Their proposal story from the bride, Quiara: Matt and I met while in our junior year at CU Boulder in 2006. We were introduced by a mutual friend, and both referred to this moment as "love at first sight." Although the sparks were there, we were very young and enjoying our youth fully, the timing was not right. We had an unspoken recognition this was not to be messed with unless we were serious. We remained friends for several years and began to share a circle of friends. In 2011 Matt and his roommate were looking for a new place to live (as was I) and so we ventured into a sort of, Three's Company living situation. Shortly after moving in together Matt and I shared our first kiss during a night out in Denver, but kept our budding romance under wraps for several weeks. Eventually our good friend and roommate was onto our long looks and added time together and we were outed! It seemed it was now or never for us and we went all in!
In May of 2015 Matt suggested a trip to one of our favorite places in Colorado, the San Luis Valley. I was elated when we booked a yurt at the Joyful Journey Hot Springs, a place we had dreamed of visiting! As I packed my bag, I had a feeling this could be it, and slipped in a bottle of champagne...
It is a nearly 4 hour drive so when we arrived late that night, we were ready for a food soak in the calming lithium hot springs. I had forgotten how bright and numerous the stars were out there. Far away from the city, they lit the entire landscape at night. The San Luis Valley is widely known as a deeply peaceful and spiritual spot, but has even more meaning for us; our first trip as a couple was to the Great Sand Dunes here in the valley. It was nostalgic to come back and see how far we had come together since our last visit four years before. We woke up to the sun beaming into the yurt's skylight. The view outside our door was breathtaking, the foothills and mountains surrounding the prairie were filled with purples, pinks, greens, and grays. Birds flew above us and rabbits hopped alone the grasses... as an nature and animal lover- this is my happy place.
Matt had heard a big snow storm was hitting the Wolf Creek area and het was determined for us to get in a late powder day! After another soak we drove to mountains and were astonished to see 3-4 feet of fresh snow and more dropping by the minute! Being that it was May, the ski resort was utterly deserted; we were the only humans on the mountain and Matt was buzzing with excitment for fresh tracks. We clipped into our split boards, and began the long trek to the top of the first ski lift. I don't know if it was the lithium in the hot springs from our dip that morning, or sheer exhaustion from the ski up but I was pooped after over an hour of hiking up! I recall laying down at one point to rest, while Matt (a true energizer bunny) continued at a fast pace ahead. He called down to me when he reached the top that it wasn't much farther. I remember thinking, that despite how tired I was, I needed to find the energy to get up and meet him at that top; I had feeling that this might be Matt's proposal. After another 15 minutes battling the terrain and slipping backwards at times, I reached the top and again succumbed to flopping face down in the cold snow to hopefully catch my breath.
As I lay there gulping in the thin and crisp air, I heard, "Truly, Madly, Deeply" by Savage Garden coming from Matt's Jammie pack (which I don't think has ever played anything but beat pumping house or rock before or after that moment). This particular song has been a running joke between us since we began dating, the ultimate in over the top cheesy love songs. We often sign cards, texts, and emails T.M.D. (truly, madly, deeply) as a nod to this tune and all its mushiness. So, when I heard it, I knew what was happening! I lifted my head up out of the snow to see Matt kneeling down in front of me with a ring box in hand. I cannot tell you the exact words he used, but I know he asked me to marry him despite me huffing and looking like an abominable snow girl (that spells love). I said,"Yes!" We had a long kiss I'm sure neither of us felt due to the numbing cold, laughed and hugged. There was utter peace on the mountain and I felt grateful it was a completely intimate venue where we didn't have to share this moment with anyone but each other.
The wind and snow began to ramp up, it was definitely time to enjoy the much deserved desent! We clipped together our split boards and enjoyed our very first ride down a mountain as soon to be Mr. & Mrs. Neam. The combination of four silky feet of snow mixed with the elation of a new engagement gave way to lots of loud yips and hollers as we turned and floated our way back down to the car. With giant frozen grins we called our Moms to wish them a happy Mother's Day and share the exciting news!
I will always remember I not only earned my turns that day, but also earned my amazingly funny, loving, charismatic, and energetic finance (now husband), Matt Neam. He did a great job of creating a memorable trip for us to look back on!
In the fall we traveled back to the San Luis and stayed at Joyful Journey Hot Springs again, where we took our engagement photos in some our favorite spots in all of Colorado. We could not be happier with the images that Jason at The Photogenic Lab created for us! I think he enjoyed the magic of this area as much as we always have.