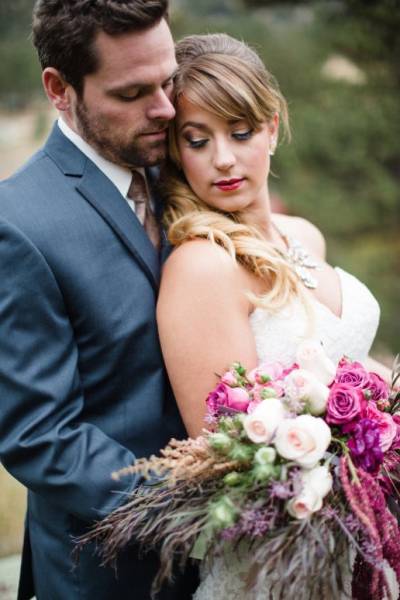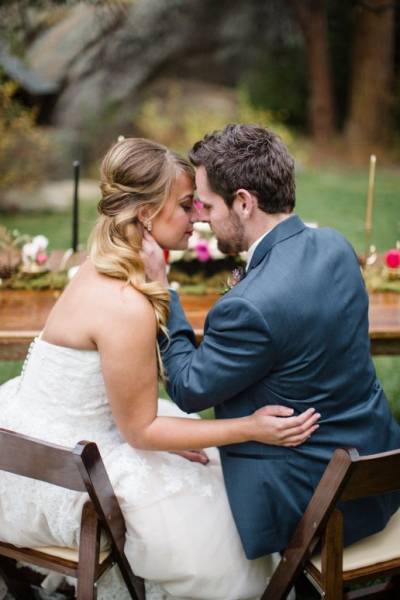 Inspiration Behind the Shoot
Inspired by the rich color palette of fall, a talented group of wedding professionals from Northern Colorado led by Jessica Dee Martinez from Pro Chic Events conceptualized and designed a gorgeous styled autumn wedding. The inspiration was set amongst the soon-to-change trees near a woodsy, mountainside pavilion. With the stunning backdrop of Black Canyon Inn in Estes Park, CO, the team created a show stopping landscape with some of fall's most notable details. The design team opted for a glamorous and modern purple, pink and navy theme bringing natural wood elements, hints of autumn and gold detailing together with lush blooms in hues of purple, ivory, blush, rich berries and shades of the deepest burgundy wines. This modern autumn glamour inspiration is perfect for the bold, sophisticated and trend-setting bride looking to create a chic, show-stopping impression.
Color Palette
Initially navy might seem like a bland choice, but pair it with a shimmery gold accented by fuchsia and violet and the contrast creates a bold elegance that will work great both indoors and out. This rich and diverse palette is a dramatic choice, and considering these shades look good on basically every skin tone, your bridal party and guests will love the contrast. Warm tones like fuchsia will always have a place in our heart. With this combination of bold, feminine colors, you'll have a palette that's nothing short of swoon-worthy.
Flowers
Flowers and greens are vital on every table. Styling three large farm tables, Pro Chic Events created three different looks. First, a horizontal, low and compact centerpiece overflowing with purple, pink, burgundy, blush and ivory. For a modern yet clean touch, the design team brought in matte black cube containers and sleek votive holders to accentuate the centerpieces. A little symmetry was added with blooms in matching containers on both sides to add some interest to the ends of the table.
Second, long and lush vines of smilax (a bright green dainty plant) created a low line across the table that was accented with rose buds, berries and gold accents.
The third table had a second horizontal arrangement in a matte black vessel, but this time the table is covered in an earthy sheet of moss and topped with lanterns, pine cones, gourds and gold bonbons.
Bouquet and arrangement floral ingredients: baroness garden roses, garden spirit roses, white roses, soft peach isle roses, purple roses, pink astilbe, red hanging amaranthus, scabiosa pods, nigella pods, purple dyed seeded eucalyptus, willow eucalyptus and adonis willow myrtle.
Cakes & Desserts
The three cakes were flawlessly executed by Cupcake Libations. The white fondant is adorned with intricate hand painted flowers in shades of violet and fuchsia. The other two cakes have violet and black fondant icing to match and are finished with gorgeous gold lace and black velvet details. The insanely detailed floral decor atop the cakes truly tie in the total look. The cupcakes were topped with sweet and simple white buttercream and accented with sprigs of burgundy adonis. The cake colors, textures and decor were an integral part of tying in the deep purple, pink and burgundy hues of the theme.