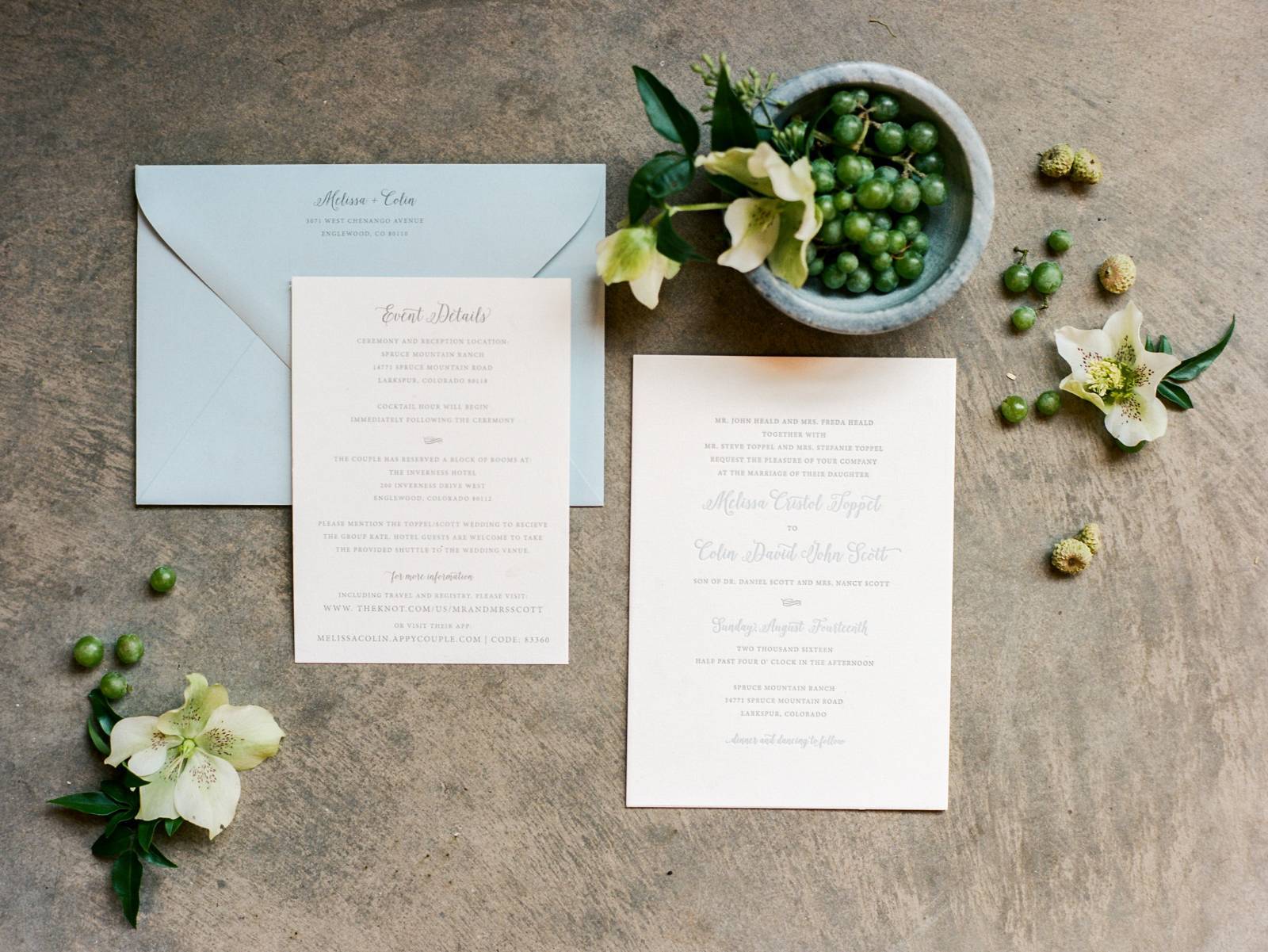 Their Love Story
Colin and I met during the first weekend of our freshman year at the University of Denver. He called me "Texas" and I thought he was adorable. Colin was in a Spanish class with my best friend, 4th floor neighbor, and future bridesmaid Ashley. Spanish was not his strong suit and so he would come up to our dorm floor to study with Ashley. Well as I said, I thought he was so handsome and therefore I would always make it a point to walk by their study sessions and say hello.
It all changed one day when he got my number from Ashley. He called one Saturday night and asked, "Why aren't we hanging out?" I was in the mountains with my girlfriends and was a little confused because we had never spent any quality time together. This phone call made me so excited though and I felt like a giddy little school girl. The day I got back from the ski trip he happened to be standing in the lobby of our dorm and gave me the biggest hug. As I walked away, his friend asked, "Who was that?" and Colin responded with, "That is my future girlfriend." Colin played lacrosse and so I attended a game with some friends in the next couple of weeks to watch him. I had no idea what number he was though so we looked up the roster on our phones and Colin happened to be number seven. Seven is my lucky number and the rest is history!
Fast forward five and a half years later when Colin decided to take me camping for labor day weekend. We love to camp and usually go in a big group of friends but Colin insisted on planning the perfect trip with just us and our two huskies. He meticulously planned out every meal and activity for the weekend. I still had NO idea that an engagement was coming! Saturday morning he took me on a hike with our pups. When we reached the top, we tied up our dogs and held each other while looking out at the beautiful view. I could feel Colin's heart about to pound out of his chest but I just thought that he was a little winded from our hike. Next thing I know he is down on one knee and something shinny is staring at me. It was the most amazing moment and one that I will never forget. He had roses and champagne secretly packed in a backpack waiting for us to celebrate.
3 months later my mother, mother-in-law, sister/maid of honor, and best friend all flew in to help me pick out my dream dress. Our first stop was at Emma and Grace Bridal Studio, where I tried on about 10 dresses. I always loved lace but was completely open to trying on different shapes and styles of dresses. I tried on every style and felt most comfortable in an A-Line strapless dress. I loved a couple of lace dresses but didn't quite feel like they were "the one." The studio owner brought in the most beautiful beaded lace dress with a sweetheart neckline but it was way out of my budget. I decided that I could not even try it on but as the appointment continued, I could not get it out of my mind. So then I decided to just try it on in the dressing room. Well it was too beautiful not to show the ladies so I walked out, saw my mom, hugged her, and started bawling crying. I got the feeling every bide talks about and knew it was the dress that I would marry my love in. We cancelled the next dress appointment and had a lovely champagne lunch.
We got married almost a year after Colin proposed and it was the best night of our lives. Colin and I really cared about quality vendors and they truly delivered! Our families live elsewhere in the country and therefore hiring a planner was super important to us! Our planner had the best ideas and greatest recommendations to match our desires.
Our first check mark during the planning process was to find a beautiful venue. Colin and I wanted a rustic elegant wedding that captured the love we have for one another. We wanted to focus on sharing our romance with our guests and having a really good time. We always wanted to get married outside and show off the beauty of Colorado but did not want our out of town guests to have to travel an extra distance. We decided to get married somewhere in the foothills because it has a gorgeous back drop but it's not too far from Denver. My mom and step dad came to visit shortly after the engagement. We decided to tour Spruce Mountain Ranch in Larkspur and we completely fell in love. It was the first venue we saw and we booked it that day!
I am from Texas and Colin is from Connecticut and so for the wedding decor we wanted to combine those two styles with a Colorado flair. This meant classic traditions with a twist. We wanted to incorporate different textures such as wood and gold and use different shades of blue. We decided on shades of blue because we love blue but we also felt like it was the perfect color to play off of the wood in our rustic venue. Colin and I included many personal details from our six years together, which made the day so special to us! Our dogs walked down the aisle and Colin's grandfather officiated the wedding. He became ordained online and led the most amazing ceremony. Fun fact...we didn't even practice once with him! Colin and I also handmade a corn hole set and had personalized koozies for guests. We had a wedding cake but also had mini cheesecakes because our first date was at the Cheesecake Factory.
I did not look at the weather for months leading up to the wedding and just trusted that the sun would be shinning. Luckily for us the sun was shinning bright and there was a slight breeze throughout the entire day. It was the perfect temperature on a usually hot August day. It was a long day of getting ready but I felt extremely calm and could not wait to see my groom. The day felt truly surreal until my mom and sister zipped me into my dream dress. The wedding was so beautiful and it was so fun to share personal touches with our guests. We loved including our moms in the panning process and we are so grateful for the endless support from our parents, wedding party, and loved ones through it all. The next day we had brunch with our families and then jetted off to Hawaii. We are so thankful for a wonderful night and will have these memories forever! My one piece of advice to brides is to relax and take in every moment of the day because it goes by way too fast.
~ Bride, Melissa