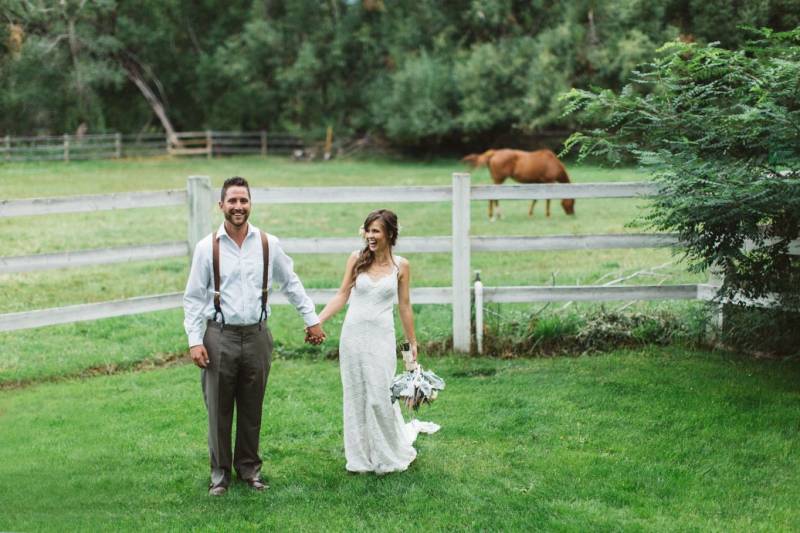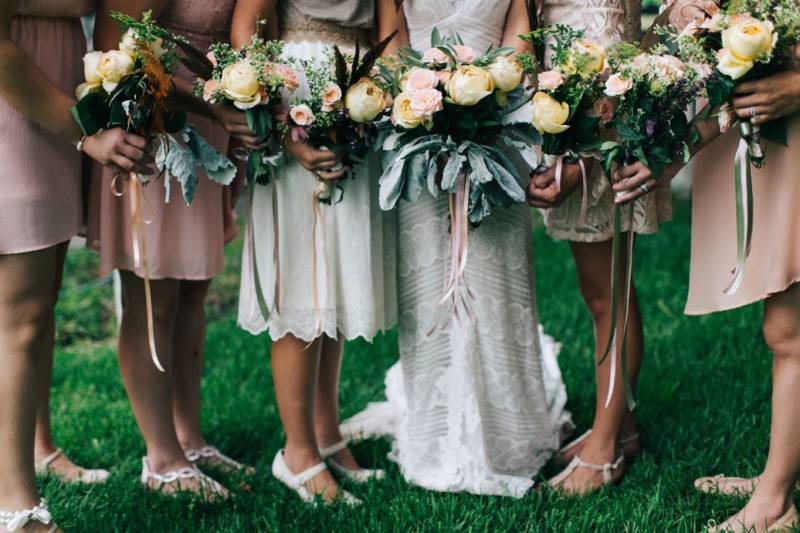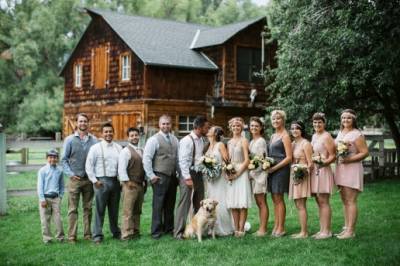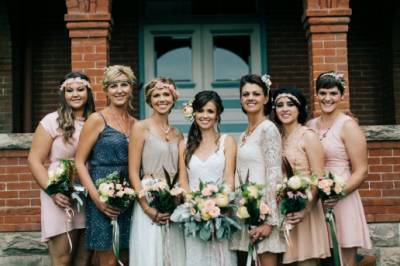 How He Asked
From the Bride
"Corey's proposal was completely unexpected. We were in San Diego spending Thanksgiving with my family there. I have always wanted to go hiking at Torrey Pines, and what do you know, it just happened to work out this time during our visit! Even on the Thanksgiving holiday, the park was packed! We ventured off on our hike, buzzing through the crowd. Miraculously, we took a right turn and found ourselves alone with a beautiful view of the ocean behind us. I was getting ready to take a picture with my phone and I saw him in my peripheral vision and thought 'what is he doing?.' He was so nervous, he literally fell to one knee next to me (bruised it up pretty bad too!) and very simply said 'Tawny, will you marry me?' In shock, I dropped my phone, completely shattering it. The whole family was waiting for us to get back from our hike (Dad had filled everyone in on the proposal in the meantime) and I'm not sure cried more, me or my mom."
About the Wedding
If we could describe our wedding in one word, it would be "us." We knew we wanted something unique, laid back, classy and genuine.
To start, we both agreed we wanted to find a venue off the beaten path, and in the heat of August, a mountain town made most sense. Salida seemed perfect for this. We both absolutely love Salida, so it was kind of a light bulb moment when we thought of it. The venue was incredibly unique; a private, Victorian farm. I found Moonstone Farm on AirBnB and with encouragement from my little sister (and Maid of Honor), I contacted the host to see if they'd be at all willing to let us host our wedding on their property. Not only did they allow us to host our wedding there, but they let us rent the entire property for the whole weekend! My family was able to stay in the larger Victorian farmhouse, and my husband's family stayed in the cottage down by the Little Arkansas. It was perfect! We were even able to keep our dog, Hunny, with us, which meant the world to me. She escorted Corey down the aisle and my mom made her a harness and leash trimmed with pearls and lace for the occasion. Everything about the farm was perfect, from the horse, Barbie-Slew, running around in the background during our vows, to the pond filled with lily pads, and the quaint, organic vegetable garden by the cottage. (Not to mention the mountains and incredible sunset.)
All of the decorations were antiques and family heirlooms, from either my house, my parent's house, or my older sister's house (and Bridesmaid). We have a small addiction to antiques and vintage finds. With a little help from FiftyFlowers.com, we were able to make centerpieces and bouquets using herbs from my mother-in-law's garden, and flowers from my mother's garden. If you haven't considered herbs as a filler, at least consider sage. Sage has the perfect color to it, and adds such a wonderful fragrance to absolutely everything. The wedding felt complete with vintage furniture set around for cocktail hour and lounging. I must give extra credit and love to my mother, who spent hour after hour sanding and refinishing furniture, cutting out lace, recovering thrift-store pillows, or sewing to make our wedding beautiful and memorable. She's truly the most amazing and selfless woman in the world!
We gave the bridal party a color wheel and told them to find something they liked, fit their style and body type, and would wear again. One of my bridesmaids found her dress for only $5! Most of our bridal party had children, so rather than fuss about who was going to watch them while they were standing by our side, we invited the children to walk with their parents. Our dearest friends carried their baby girl down the aisle (dressed to match her mommy), and my brother-in-law carried my nephew on his shoulders. All other children were flower girls or ring bearers.
The dancing was by far the best! If you haven't thought about it, definitely practice your first dance: Corey and I didn't want to stand up there like middle schoolers at a school dance so we agreed to practice something. Our first dance was to 'Fair' by Remy Zero; we coordinated (if anyone could be generous enough to call it that) our own moves in our living room. Our first dance was so memorable because we couldn't stop laughing remembering those evenings dancing around the house! My dad and I danced to 'All You Need is Love' by the Beatles, however, we invited all of our family to come up and join us during the dance! Because, all you need is love, and love is family! Corey and his mother danced to 'God Only Knows' by the Beach Boys; a very fitting song for them.
The whole evening was such a dream. Even though it rained right before the ceremony (don't fret! Rain makes for gorgeous pictures later!), the sunset, the food, the dancing, the company of our family and dearest friends and the celebrating "us" was completely unforgettable.