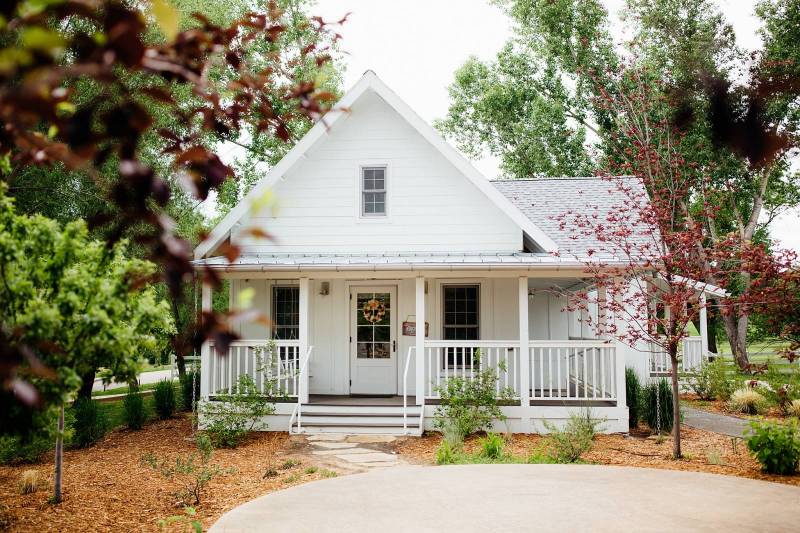 Wedding Inspiration
Event planner and designer Jaclyn from Jaclyn Michelle Wedding and events and floral designer Erin from Erin Ashley Design teamed together to create the vision for this Vintage Americana themed style shoot. The vision was created out of memories of warm summer nights with chirping katydids, the fresh baked aroma of apple pie, sips of Coke-a-Cola with red lipstick, and visions of victory rolls, tea-length dresses, and penny candy.
The timeless setting of The Barn at Raccoon Creek made transforming these concepts to life possible. Their red barn and gorgeous bridal cottage created a dreamy and romantic background. Vintage charm was sprinkled throughout the vignettes by Coleen from Plank and Pearl who successfully added a 1950s flair to the shoot through beautiful toile place settings, whiskey bar accouterments, penny candy jars, vintage cameras and other styling props.
Decadent red peonies, forged maroon cherry branches, lots of fragrant ivory blooms and pops of blue viburnum berries created wild, styled, and romantic arrangements for the shoot. Inspiration was pulled from the American flag for the ceremony floral design, which was complete with a star-spangled lily garland.
With the stage set, the brilliant Mallory, with Mallory Munson Photography shared her incredible talent to capture all of the collaborative components that made this shoot come to life. Mallory's images gave the shoot panache and a sense of Independence Day sparkle.
Our models Caitlin and Mike were created into a bride and groom with the assistance of attire by The Bridal Collection and Ted's Clothiers. Jordan, Creative Director and Master Stylist at The Bridal Collection, selected the perfect modern take on 50s fashion with the tea-length gown, peep-toe pumps, and birdcage veil. Chris, with Ted's Clothiers selected sharp details such as the groom's red bowtie and American flag socks. Victory rolls and crimson red lipstick was a stunning touch by Liz, with Beauty on Location Studio. Plenty of glittering diamonds were provided from Kaeleigh, at The Diamond Reserve.
The finishing touches included an invitation suite, program, menu and place cards by Tasha at Tasha Rae Designs and elegant calligraphy by Judi with Dotting the i, on drink and dessert bar signs and the table assignments. (If you look really closely, you can see a rather presidential guest list!) Last but definitely not least, no wedding is complete without dessert. Cherrie, the owner of Cakeheads Bakery, took our vision of an Americana naked cake and executed perfectly.
This talented team of vendors who brought this vision to life was coordinated beautifully by Jaclyn. The communication and planning leading up to the day of the shoot made sure that everything was executed perfectly.