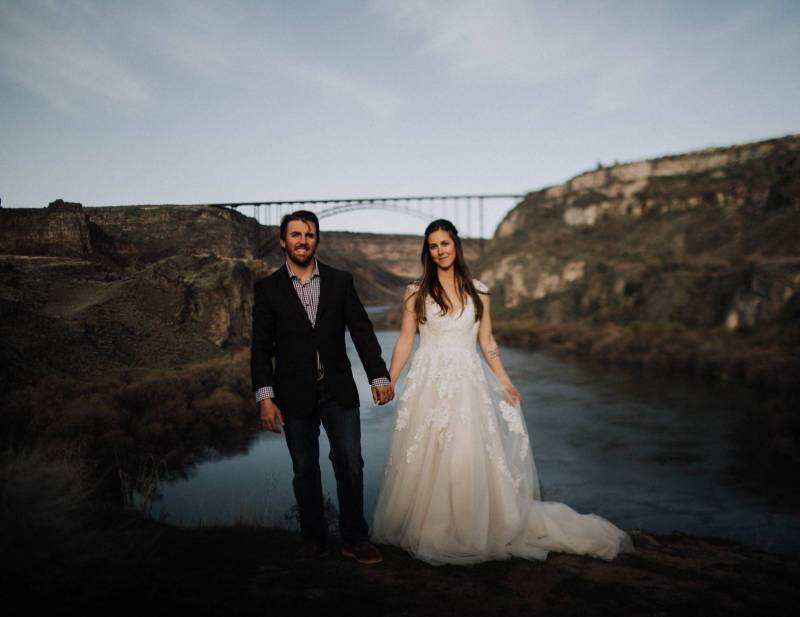 Their Story
We are your typical Ed Sheeran song, "the club isn't the best place to find a lover so the bar is where I go".... actually let's get real there are definitely no clubs in Hailey Idaho unless you consider the occasional barn dance a club.
Kjell and I both grew up in the same small town yet never really hung out. We reconnected last year because of mutual friends (yes at the bar). We hit it off instantly, it was such an undeniable and unique connection between the two of us. We started going on adventures, mostly long drives so we could just sit and talk about life. We explored Idahos awesome Hot Springs, because it was one of my favorite childhood memories and I wanted to share it with Kjell. Over the past year of being with Kjell he has opened my heart and eyes to a different way of life. Kjell is my parallel. We are both giving people and want others to be happy. We each pour so much into each other.
I remember the first time Kjell told me how deep his feelings for me were, and of course he did it in Kjell style. We were laying in bed getting ready to fall asleep when he pulled me in close and said, "Chante I want you to know I adult like you." It was a night I'll never forget, I mean how original can you get with your first I love you!
So here we are a year later. We've been to Alaska, California, Utah, Wyoming, Nevada, Montana and all over Idaho. We are so excited to see where our lives are headed and we are always ready to go on adventures with our favorite adventure buddy.
~ Chante