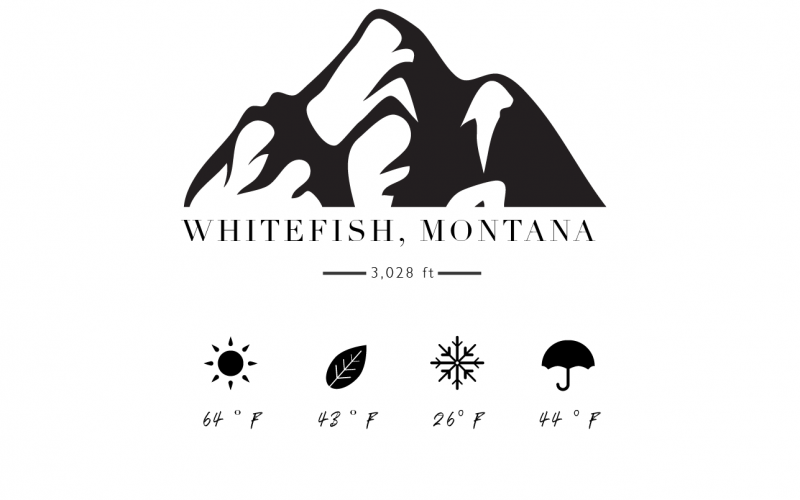 Whitefish, Montana is located in the heart of the northern Rocky Mountains. Home to the amazing world-class Whitefish Mountain Ski Resort and Glacier National Park, this mountain destination is a perfect spot for your destination wedding in the Rockies.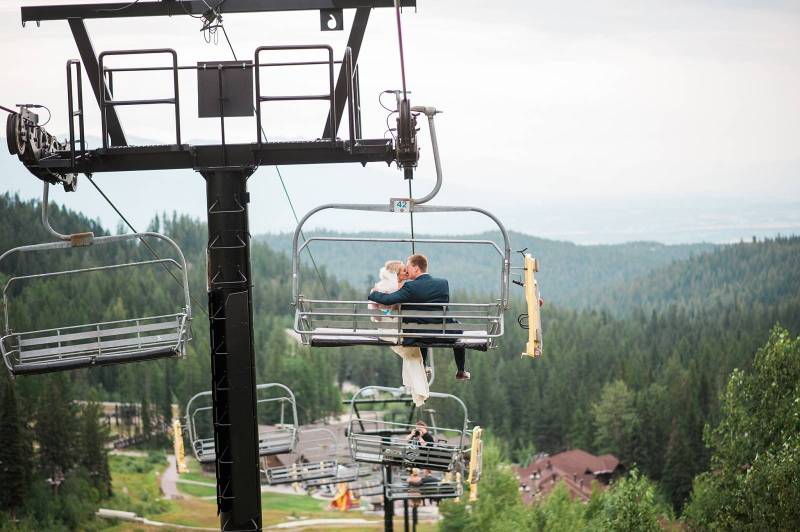 If you are looking for a mountain escape for your destination wedding, check out Green Valley Ranch. Nestled on a 480-acre historic family homestead just outside Glacier National Park, this private mountain ranch is a perfect Montana vacation retreat. This rental homestead is perfect for a large wedding party and can accommodate 26 guests in its main lodge and quaint family cabin.
With a premier location in downtown Whitefish, the Firebrand Hotel is our choice for urban refinement mixed with the gorgeous Montana landscapes. Only minutes away from top tier dining and nightlife options, as well as outdoor activities such as golfing, trails and skiing, this hotel is perfect for a stay before the wedding day. Be sure to check out the Firebrand's Bridal Ready Room, which is a private space designed for bridal party preparations. This gorgeous space comes equipped with a private bath, grand windows and a balcony.
Only 15 minutes from Whitefish and located at the west entrance of Glacier National Park is the Belton Chalet. Get ready for a unique mountain experience in its restored lodge rooms and cottages perfect for out of town guests. Known for its genuine hospitality, local food delicacies, unrivalled scenery and exceptional service, this location is sure to transport you to a gorgeous mountain retreat.

Whitefish Mountain Resort offers two stunning locations for your Montana mountainside wedding. The Base Lodge has stunning views of the lower slopes of Whitefish Mountain Resort and features an outdoor patio and stone fire pit. Perfect for a mountainside wedding, the Base Lodge's third floor boasts rustic lighting and décor with capacity for up to 200. The Summit allows your guests an exclusive experience with a chairlift ride up to your ceremony.
In the midst of the beautiful Glacier National Park and the blue waters of Flathead Lake is northwest Montana's Blue Star Resort. This stunning wedding venue is a picturesque location for your destination wedding. Take your guests on a mountain retreat and say "l do" away from the distractions of everyday life at Blue Star Resorts
Located only minutes away from downtown Whitefish, the Lodge at Whitefish Lake is a gorgeous wedding venue inspired by grand lodges of the past. Offering over 8,000 square feet of indoor event space and locations for each of your wedding festivities, this venue is ideal for your Whitefish wedding. Your guests will have the option to stay in luxurious hotel rooms, suites, cabins and condominiums making this a one stop shop for your destination "I do's". Check out their various wedding packages to begin planning your day!

One of Montana's oldest log structures still in use, the Whitefish Lake Restaurant at Whitefish Lake Golf Club is a beautiful restaurant with a cozy mountainside ambiance. With the ability to accommodate groups of up to 30 people and special group menus, it is the perfect location for your Whitefish rehearsal dinner.
Located in downtown Whitefish's Firebrand Hotel, this lounge creates amazing food that compliments Montana cuisine. Whether you are looking for a central location for your rehearsal dinner, or a cozy spot to gather with those closest to you before the big day, the Firebrand Lounge is a great option!
Café Kandahar is recognized as the premier dining destination in Whitefish, MT. Located in the Kandahar Lodge in Whitefish Mountain Resort, Café Kandahar allows for restaurant accommodations up to 75 guests and private dining for up to 16 guests making it the perfect setting for intimate rehearsal dinner gatherings.

If you are an outdoor enthusiast, look no further than Whitefish to keep you busy all day long. With over 600 miles of trails leading into Glacier National Park's lakes and mountain peaks, you can encourage guests to explore the beauty of Whitefish's surroundings. Learn more about Glacier in a Glacier Park Red Bus Tour with roll-back tops for panoramic views of the Montana Rockies. Looking for a romantic night out? Board the 31 foot custom cruiser at the Lodge at Whitefish Lake for a Scenic Sunset Cruise with champagne!
Winter wedding? Whitefish Mountain Resort is home to world-class winter activities such as skiing, snowboarding, snowmobile trails, ice skating and dog sledding, just to name a few.