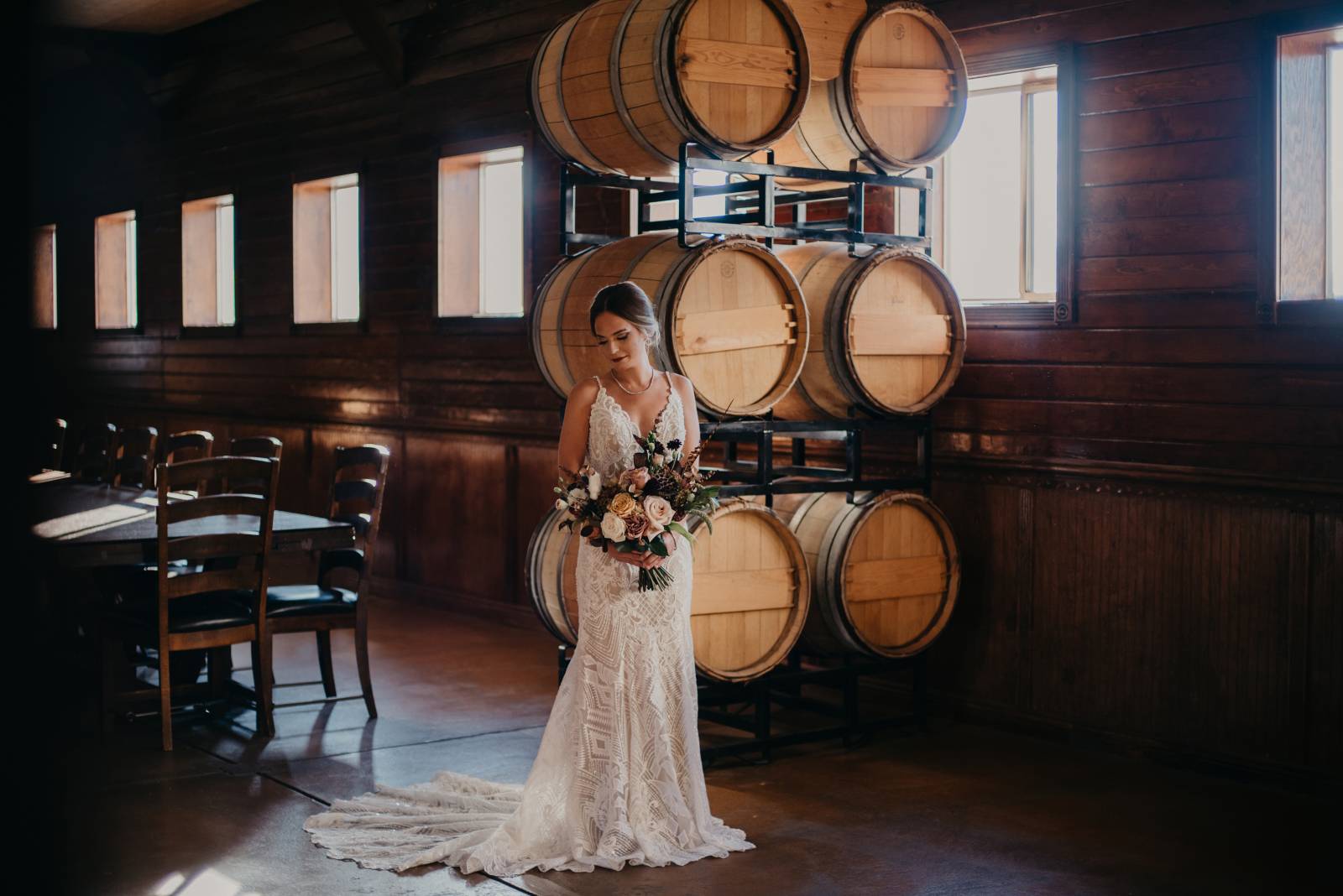 Fall weddings are some of our favorites!
The beautiful colors that develop throughout the Rocky Mountain region are absolutely breathtaking. And, with moderate temperatures and crisp air, your guests won't complain of heat exhaustion or cold hands and toes from the snow! It's the perfect time of year to tie the knot. But, often the fall season leaves us in limbo about how to dress for the occasion.
So, with a growing trend for fall weddings, elopements and more, we teamed up with The Bridal Collection to bring you ten fall style tips.
1. Don't feel limited by the season!
While a long sleeve wedding gown is absolutely stunning in the fall, wear what makes you feel beautiful. If you try on a strapless ball gown that has your name written all over it, there is no reason you can't say, "Yes" to the dress!
2. Don't shy away from shimmer!
Dresses with sparkle can often have a glamorous vibe, but if you're hosting an outdoor ceremony don't rule it out! Choosing to wear a wedding gown with some shimmer can create a magical, ethereal feel at any Rocky Mountain venue.
3. Who said you have to wear white?
Try to avoid a bright white for a fall wedding - ivory is always going to be more flattering and will look more natural with fall colors.
4. Consider mixing dress tones!
For a fall wedding, mix the tones on your gown (like an ivory lace over a nude lining) to create a romantic and natural feel for an outdoor ceremony. Blush, nude, gold and champagnes also look beautiful in the fall.
5. It's all in the accessories!
Create a fall feeling with your accessories. Warm golds, wrapped headbands and rich florals can create a fall vibe with even the most classic style gowns.
6. A floral crown is still okay!
Floral crowns are still on trend but for fall weddings consider waiting to wear that floral crown for your reception. Keeping a classic look for the ceremony guarantees your photos to be timeless, and it creates two different looks from the ceremony to reception.
7. The weather is unpredictable!
The Rocky Mountain region is known for fast and unpredictable weather changes. Consider buying a shawl or lace jacket to pair with your wedding gown. Just in case! A change of shoes might not be a bad idea either.
8. The groom!
Navy or darker grey suits create great fall looks for the groom. If the groom wants to go for a bolder look, a custom hunter green or burgundy suit look great and photograph amazingly.
9. The wedding party!
Deep burgundy, champagne sequins, dark hunter green or navy blue are great colors for your bridal party. Keep it simple with one color, or mix a few tones up for a laid-back fall feel. Need some inspiration for mismatched bridesmaids dresses, check out our Pinterest board.
10. Don't forget your guests!
Let guests know what kind of terrain to expect. Certain outdoor venues may require sturdier shoe choices. And, if the reception is also outdoors, a friendly reminder to bring a light jacket for those cooler fall evenings is appropriate. If you're expecting a chillier weather forecast due to location, providing blankets for guests to cozy up in is a good idea.
The dress featured in this post (Style MJ455) is from the Madison James Collection.
This Madison James gown comes in the perfect tones including champagne, ivory, nude and almond. And, with just the right amount of shimmer, you'll be sure to shine on your big day!
The Bridal Collection currently carries the Madison James Collection.
On November 30 - December 1, The Bridal Collection will be hosting a trunk show featuring the 2019 collection by Madison James.
From The Bridal Collection:
Famous for their incredible and unique lace patterns and stunning, vintage-inspired beadwork, Madison James gowns embody the ideal combination of luxury and classic American charm.
Because our stunning Colorado landscape offers endless options for wedding venues, it is important to us at The Bridal Collection to present our brides with just as many gown options to suit their personalities, venues and wedding styles. For nearly 20 years, The Bridal Collection has been creating stress-free, fun shopping experiences for Colorado bride. No matter the season, The Bridal Collection stylists can help you find the perfect wedding dress.